Labour's ruling National Executive Committee has agreed changes to the party's rulebook which will give grassroots activists and trade unions more say in who can stand in future leadership elections.
And the NEC, meeting in Liverpool on the eve of Labour's annual conference in the city, also agreed reforms to make it easier to deselect sitting MPs.
The changes, agreed unanimously by the NEC, will be put to a vote of delegates at conference on Sunday.
The NEC proposals do not cut the 10% threshold for MPs' nominations required to get on to the ballot paper for a leadership contest.
But they add a new hurdle for would-be leaders, who also have to secure nominations from 5% of constituency parties or 5% of members of trade unions or affiliated organisations.
There has been pressure from the left of the party for a cut in the number of MPs' nominations required, in order to ensure the presence of a Corbynite candidate in any future contest. The hurdle was cut to 10% last year after Mr Corbyn struggled to secure the 15% needed in 2015.
Reform to the leadership ballot rules is understood to have won overwhelming support in the democracy review ordered by Mr Corbyn, which is due to be published on Sunday.
The new rule will mean future candidates having to build support among grassroots activists and trade unionists as well as at Parliament.
Under the reselection proposals, the threshold to force sitting MPs to fight open selection battles will be cut from 50% to 33% of local branches or affiliated unions.
Labour MPs currently face a so-called "trigger ballot" before each general election, but must only fight for their position if a majority of local branches and affiliated unions back an open selection contest. The new change will require an open contest if either 33% of local party branches or 33% of affiliated trade union branches demand one.
The reform falls short of the demands of some activists who are seeking mandatory open selection contests for all MPs before every election.
Their campaign is seen by many MPs on the right of the party as an effort to purge "Blairite" influences and critics of Mr Corbyn's handling of issues such as anti-Semitism.
A Labour source said: "The proposal agreed unanimously by the NEC reforms the existing reselection process, giving members and trade union affiliates a greater say in who represents them, but doesn't move to automatic open selections."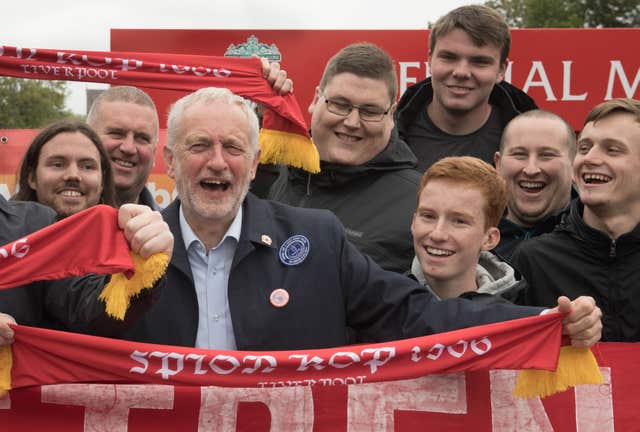 A meeting of supporters of mandatory selection contests on the fringe of the Liverpool contest heard close Corbyn ally Chris Williamson ask: "What's wrong with giving members a chance to decide who will be their candidate in each election?
"It happens in every community organisation and trade union I can think of. Even the secretary of Jeremy's allotment association is subject to mandatory reselection every 12 months."
Speaking after the NEC meeting, a Labour spokesman said: "Following the democracy review, the NEC has agreed rule changes to put to a vote at party conference to remove barriers to political participation and help transform our party into a mass movement for the many, not the few.
"The democracy review is one of the biggest democratic exercises undertaken by any political party, with over 11,000 submissions and hundreds of consultation meetings held across the country."
Other changes emerging from the review which will be put to a vote in Liverpool include by-elections for NEC vacancies, new powers for Scottish and Welsh conference to determine how NEC representatives from the Scottish and Welsh parties are chosen and the creation of a disability place on the committee.